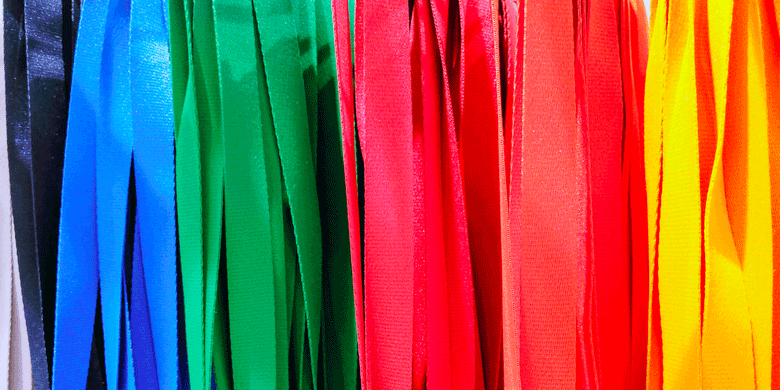 27 April, 2022
Unique Ways To Use Custom Lanyards
We all know the regular ways to use a lanyard. We thought we'd go a little out of the ordinary and list some unique ways you can use a custom lanyard.
1. Hand Sanitiser Holder: Add a small bottle of hand sanitiser to the end of your lanyard. If you get a small 30ml or 60ml bottle that has a carabiner clip, they are easy to connect.
2. Care Keys: Add an "O" ring to the end of your lanyard and you can attach your car keys. This will give you easy access to them rather than having to dig through your pockets or a bag to find them.
3. Hold Your Whistle: Are you a coach or referee? Put a whistle on the end of the lanyard so you have quick access to your whistle to keep control of the game or your players.
4. Pen Holder: Never lose your pen again! Add a small pen holder to the bottom of the lanyard and put your pens inside so you can write that inspirational thought down.
5. Passport Holder: Stop foraging for your passport at the airport. Put your passport into a holder and attach it to your lanyard so you can get it quickly for customs.
6. Face Mask Holder: Face masks have become a necessity for many people. Rather than folding and unfolding the mask and getting it out of pockets or bags can be a hassle. If you have an open-ended lanyard you can attach both sides of the face mask to it for easy access.
7. Watch Holder: Great for people that need to keep one eye on the time and another eye on something else. Watch lanyards are perfect for this. Perfect for people such as doctors and nurses are the perfect candidates for this.
8. Charge Up: Don't get caught with a dead phone. Add a lanyard with a built-in charger so you can charge your phone whenever you want.
9. Stay Hydrated: You can add a water bottle holder and put add your favourite drink to the end of the lanyard ensuring you never go thirsty.
10. Camping Showers: Grab yourself a waterproof lanyard with a pouch at the end. You can put all your kit for the bathroom in the pouch. It will save you from having to put anything on the ground in the communal showers and keep everything together in one handy place.
11. Treasure Hunts: Great fun for the kids, why not hide clues for your treasure hunt in pouches on the ends of lanyards. This allows you to be creative where you leave the clues. They could be hung from a tree branch or window ledge, allowing for a great deal more creativity and challenge for the kids to find the clues.
Above are some fun ways to use a lanyard that you may not have thought about. Don't forget though they can be used in a lot of traditional ways such as visitor passes, for trade shows, security at events, school ID passes and much more.
If you are needing lanyards, but are unsure how you want to use them for a promotion, give us a call or send us an email. We'd love to help you out. Otherwise, you can browse our site and pick one from there. Prices are displayed so you know exactly what you'll be paying and it includes branding on the lanyard.
The Lanyards Only Team