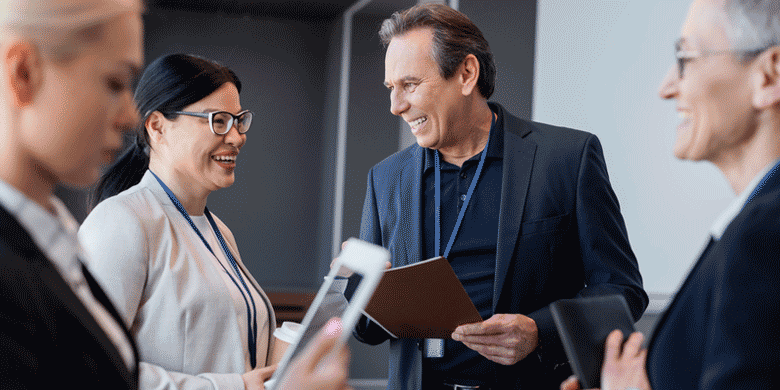 22 June, 2022
Showcase Your Business At Conventions With Promotional Lanyards
When it comes to a focused group, it doesn't get better than a convention or trade show. These are the ideal opportunities to promote your brand and business and a great way to do this is to sponsor the event with promotional lanyards branded with your company logo and details. They are cheap to buy, which means it doesn't matter if there are up to a few thousand delegates. You can provide lanyards to all of them. Not only will everyone be seeing your company logo, they can also be keepsakes for after the event, where people can still use them and be reminded of your business. It is an important aspect of creating brand awareness and potentially increasing sales.
Why Trade Shows & Conventions?
As already mentioned above, these types of events have a like-minded captive audience. Imagine walking around a room and everyone wearing identification. Each of those people will have a lanyard around their neck. Whenever they lift the lanyard to get the card swiped or to reach for a business card, they will see your company. As people walk around the room, they are swamped by visuals of your company name with every person they pass. It is a very focused area, which maximises the advertising for you.
People Will Remember You
The last thing you want is to go to the expense of hiring a booth at a trade show and then have a poor showing of clients. You want people to know and remember your business. The same goes at a convention. Perhaps you are offered to speak, or maybe you are just part of the audience. Don't you want people to know who your company is? Don't let them slip by. Even if they don't visit your stand at the trade show, if they have a lanyard with your business details, you have effectively given them a business card with the opportunity they may still take note of it and perhaps look you up through your website. The goal is to get contacts and if you have sponsored lanyards, it means you have made contact with everybody who attends.
Getting The Right Lanyard
This is an important one. There are several things you need to take into consideration before buying your lanyards
- Size: Most standard lanyards come in widths varying from 10mm high to 25mm high. If you are wanting to get an impact, we don't recommend 10mm. The branding is difficult to read. The best is anything from 15mm to 25mm.
- Comfort: Not all lanyards are created equal. Some can be quite harsh on your skin to wear. For instance, nylon lanyards look great because their colours are vibrant, but the material itself is quite stiff and can become abrasive to the neck. Look for softer materials. For an eco-friendly option, bamboo lanyards are very comfortable to wear, otherwise, the next best choice is polyester.
- Branding: Make it bold, make it big and make it simple. Don't get too carried away with the design. You want people to easily read what is printed, so avoid too many fine lines or fine text. Just keep it simple. Logo, name and maybe a few words about what your business does. Run that on both sides of the lanyard and if you want to do other promoting, get the backside printed with your website and maybe a contact phone number or email address.
Lanyards Are Affordable
Unlike other forms of promotion, lanyards are cheap to buy, especially in bulk. If you are purchasing a large amount - 5,000 or more - consider asking for them to be done directly at the factory and sea freight out. This saves on costs. The majority of lanyards are manufactured overseas and then air-freighted into Australia. To save costs you can have them sea freighted. Even if you are not buying a large amount, you can still spend well under $1 for each lanyard. When you think of the amount of advertising you get, this is a cheap price to pay.
If you are attending or want to sponsor a trade show or convention, talk to us first. We have over 20 years of experience when it comes to custom lanyards and would be happy to discuss options and get you the best value for your promotional dollar.
The Lanyards Only Team