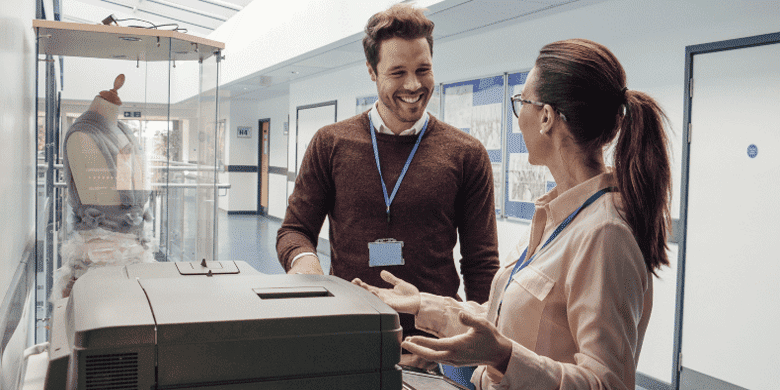 24 March, 2022
How Do Printed Lanyards Benefit Universities?
Security is paramount in today's society and nowhere is that more important than for our younger generations. That's where printed lanyards come in as they offer a new level of security. It is not just for students though. They can also be used by the teacher and other faculty members in helping to easily identify people on the campus. Let's drill down more into the benefits for universities for using custom lanyards on campus
1) Lanyards For Students: Many campuses now rely on student ID cards. They show proof of identification when asked to display them, plus some have swipe facilities to allow students to access particular areas of the university or even their lockers. Instead of just giving them a card which they then throw in their bag, put in a pocket, or throw in their purse with the possibility it gets misplaced, get printed lanyards with the University logo on them instead.
At the end of the lanyard, you can have an attachment for the ID card to be displayed. This has a multitude of advantages. Firstly, it makes losing them a lot less likely. The lanyard hanging around their neck means it is much easier to access, so they can move from area to area a lot easier. They can also be easily identified by security staff on campus if you use a hi-vis colour such as orange or yellow. No need to stop people on campus and ask for their ID. One quick look and they are easily identified.
The lanyards also become free advertising for the university once they leave the campus. If you give other useful attachments such as a mobile phone holder, they can attach their phone and use it off-campus.
2) Lanyards For Faculty Members: It's not just students who can benefit from lanyards on campus. It is also for the teachers and other faculty members. Just like the students, the lanyards can hold both ID cards and swipe cards for them to get to their different secure office locations. Getting the lanyards printed with the university logo adds that extra level of security.
You could also consider colour coding your lanyards for specific areas of the university. Rather than issuing one colour of lanyard to everyone, if they should only reside in one area of the campus, colour code your lanyards to make it easier for security staff to identify the teachers.
3) Fillers For Open Days: Lanyards can be used not just for security purposes, but also as a way to advertise the university. When you have an open day for prospective students, why not add a branded lanyard to the welcome pack. They don't have to be used for security, but just make sure you add some attachments to make it enticing for them to use. You could put an "O" ring at the end so they can put their keys on them, or add a phone holder or clip connector so they attach their phone, but also it allows them to quickly release it from the lanyard if they want to use it for taking photos.
There are many benefits to consider when purchasing printed lanyards. Just make sure you do a design to make them stand out and be easily recognised. If you want lanyards for your university but are unsure what would work best, let us take the hassle away. Give us a call or send us an email and we can help guide you on both the right sort of lanyard and the design to go on them.
The Lanyards Only Team